Mezzapica Cake Studio
The Mezzapica Cake Studio is now home to our trio of extremely talented decorators. The girls, with a combined industry experience of over 30 years, had outgrown the old premises, and demanded a brand new workspace to make your dream cake come to life!
Mezzapica Cake Studio aims to become THE go to place for all your special celebration cake needs. From weddings, birthdays & religious celebrations, to retirements and corporate events, there is no event we can't help make even better. Come and see us about custom making your centerpiece creation that will not only look stunning, but also taste truly delicious!
If you are in the area, stop by 133 Norton street Leichhardt (near the original Mezzapica store), and have a look at our new place!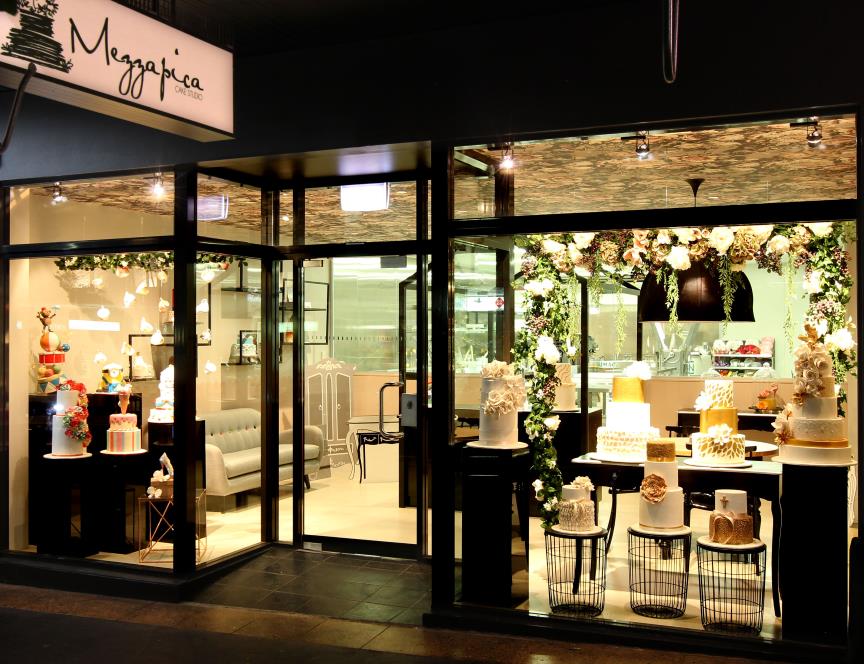 Cake Decorating Classes
Learn how to decorate cakes under the expert guidance of our professionally trained pastry chefs and cake decorators! Classes will include masking and covering techniques, sugar flowers, figurine work, tiered cakes and much, much more!
Our decorators will offer full step by step instruction on how to decorate your very own cake (which of course you get to take home after)!
To begin with we have a beginners class making a single tier Rainbow Cloud Cake, and an intermediate class who will be making a double tier Ice Cream cone cake.
We can also offer private group tuition, creating a cake customized to your needs for hen parties, baby showers, birthdays or corporate events, in a relaxed and fun atmosphere. Please contact us for more details.

Rainbow Cloud Cake
A fantastic course for any new cake decorator wanting to learn how to prepare and decorate cakes using modern methods and tools, or a cake decorator wanting to refresh their skills. You will learn fundamental and professional techniques that can be applied to any fondant-covered cake.
Level: Beginners
Date: Saturday May 28.

Class duration: 09.30 – approx 15.00
(please arrive 15 minutes early to ensure a prompt start)
* How to measure, cut, fill and level a chocolate mud cake
* How to crumb coat your cake
* How to create a sharp edged base with chocolate ganache
* How to colour your icing
* How to securely build a standing object on top of your cake
* How to make wired stars
* How to cover a round cake with fondant to achieve modern, sharp edges
* How to cover and finish a cake board with fondant and complete with a ribbon
Price: $200
Ice Cream Cake
Learn how to recreate this colourful 2 tier cake, learning fundamental decorating and structural techniques.
(Please note that this class is fast-paced and aimed at intermediate cake decorators and will assume that all students have a basic decorating knowledge. If you would like a refresher class in the fundamentals of cake decorating, please enroll in one of our Basics classes).
Level: Intermediate
Date: TBA
Class duration: 09.30 – approx 17.00
(please arrive 15 minutes early to ensure a prompt start)
* How to measure, cut, fill and level a chocolate mud cake (the top tier)
* How to crumb coat your cake
* How to create a sharp edged base with chocolate ganache
* How to prepare and cover a double height Styrofoam tier (the bottom tier)
* How to carve, shape and sand Styrofoam
* How to build a large, lightweight cake topper and safely secure it to a cake
* How to use coloured dusts to add depth/dimension
* How to achieve a modern, sharp-edged fondant finish
* How to safely and securely stack your cakes
* How to decorate with fondant stripes to achieve a flush finish
* How to cover joins with piping/fondant/ribbon
* The professional way to cover and finish a cake board with fondant icing and complete with a ribbon
Price: $385
What's included:
* Tea, coffee and a selection of Mezzapica biscuits/cakes
*Complimentary glass of sparkling wine
*Complimentary fresh cut sandwiches
* Use of all tools/materials required for the class and a box to carry your cake home
 What to bring:
* Please bring an apron with you, as cake decorating can get messy and ensure you are wearing closed shoes (i.e. no thongs!)
*Packed lunch/snacks if the provided items are not suitable for your requirements.
 To book:
Call 02 9569 8378, quoting "Rainbow Cake Class" or "Ice Cream Cake Class" or email us at designers@mezzapica.com.au. A deposit will be required to secure your booking.
Booking Conditions:
Please double-check the date that you wish to make the booking, as we cannot offer refunds for cancellations.
** please note there is no baking involved on this course, one of Mezzapica's freshly baked chocolate mud cakes will be provided for you!
"I've just seen you are holding another beginners cake class. What an amazing day I had at your first beginners class.. I recommend it to anyone… I literally had tears in my eyes as I looked at my cake, I could not believe what I had achieved in a day. I know anyone that comes to your class will be seriously impressed with themselves at the end of the day. The best part was we were all at different levels of knowledge and skill and it didn't matter – you made it seem so easy!  And it was fun. For a women who normally spends her days in boardrooms it was an awesome break for the norm.. although the benchmark has been raised for what I do for the family birthdays from now on!" – Fiona, Rainbow Cake Class.

Pre Ganached Cakes
If you love to decorate cakes at home, but aren't too fussed on the baking aspect, then a pre ganached cake is for you. Hopefully by now you know how amazing a Mezzapica Cake tastes, so why not get a head start on the best home decorated cakes. Our pre ganached cakes come filled between the layers, and are completely crumb coated, ready for you to apply your icing or cream. They are also available in a range of widths (6″ to 18″) and heights (3″ to 6″). Feel free to contact us for more information.