It all began with Angelo. Angelo Mezzapica was born in 1912 in Lipari, On the Aeolian Islands of Sicily in Italy. Until the age of 16, he worked for his father but knew that to expand his knowledge of the pastry chef trade, he would have to move to a larger city.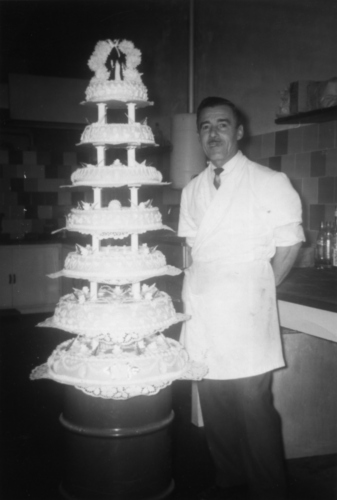 it begins with passion...
A brief history
Moving to Messina, Sicily, Angelo worked under a top Swiss pastry chef in an unpaid apprenticeship. He then went on to work in and operate various pastries and bakeries in Sicily. Angelo migrated to Australia in 1949. During the next few years, he prepared to open his Continental Cake Shop in 'Little Italy', Leichhardt. He became widely known throughout the Italian community.
By 1962, Mezzapica Continental Cakes was considered the only place to go for Italian cakes, biscuits and pastries for all occasions. Two years later, Angelo's nephew, Frank Portelli started his apprenticeship with Mezzapica, learning all that his uncle had to show him and eventually leasing the shop from him in 1977. In 1982, Frank purchased the business.
Angelo entered his well-deserved retirement. Six years on, Frank was ready for a change and sold Mezzapica Cakes to his nephews, who introduced deliveries of Mezzapica products to cafes, bars and restaurants around Sydney. In 2000, the opportunity arose for Frank and his wife Marinella, along with his brother and sister in law Efisio and Julianne to repurchase the business.
Since then, Mezzapica has continued to serve the Sydney community with the delicious recipes handed down by Angelo, and has also introduced a number of new products to compliment the Italian specialties. Mezzapica has also established itself as the go to place for birthday, wedding and other specialty cakes that not only look stunning, but have the Mezzapica quality taste.