Description
The Mezzapica giant cannoli cake comes in 2 sizes. The smaller one comes with your choice of either 26 large or 40 small cannoli. The larger is with 46 large or 70 small cannoli. These are the minimum numbers required for the giant cannoli shell to look full. The giant cannolo shell can be wrapped with your choice of ribbon colour and we can also add a message on the board. Our Cannoli are available in four flavours: Ricotta, Chocolate, Vanilla and Hazelnut.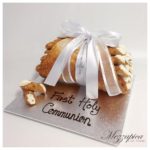 Short video explaining the very simple procedure of stacking the big shell with the individual Cannoli:

Icing covered cake boards, and wood effect cake boards are also available, please contact us more information.